NEW PRODUCT DEVELOPMENT, DESIGN, PROTOTYPING AND MANUFACTURING
We bring your innovative concepts to life
Whether you have an early-stage concept or prototype and haven't researched the technology yet, need build-to-print services, or are looking to redesign or modify an existing product, we will work collaboratively with you to gain deep insight into the required technology. We'll ensure that critical parameters are fully understood, while at the same time investigating the best approach to manufacturing. Our engineers are fully prepared to test the functionality by providing a full evaluation of the product.
No matter which phase of the project you arrive at SEIDEL with, our engineers are fully prepared to lay the foundation for the first phase of product development. Before we define a prototype, our number one priority is to fully understand the client's needs and long-term objectives. Therefore, we can develop fundamental goals that will move the project forward through our development cycle and into production.
Machine design for manufacturing and assembly
We develop and manufacture complete machines, including the components for medium and large machines. This includes engineering, procurement, project management, manufacturing, and upgrading complex systems. Our ideas and thus the machines we develop are not only long-lasting but also consistent and further evolving with a high production value.
As a custom construction client, you will be involved at every stage of the project. We start with a consultation where we establish the goals, scope, and specifications for your project. Then, our engineers design your machines, equipment, or components according to your input and your specifications. Once we have a design that meets your requirements, our manufacturing team will produce and assemble using the highest quality materials.
Our experts have excellent knowledge of different materials, have the technical know-how, and demonstrate great creativity. As a trusted and qualified partner, we support you throughout your project. Even after the installation of your machine, we will always be available to provide you with technical assistance.
We create innovative ideas and solutions!
Product Development Cycle
With many years of experience in this industry, we offer first-class resources as a toolbox for the successful development of new products. Our engineers run new product prototypes in our vertically integrated facility.
Where do you currently fall on the product development chart?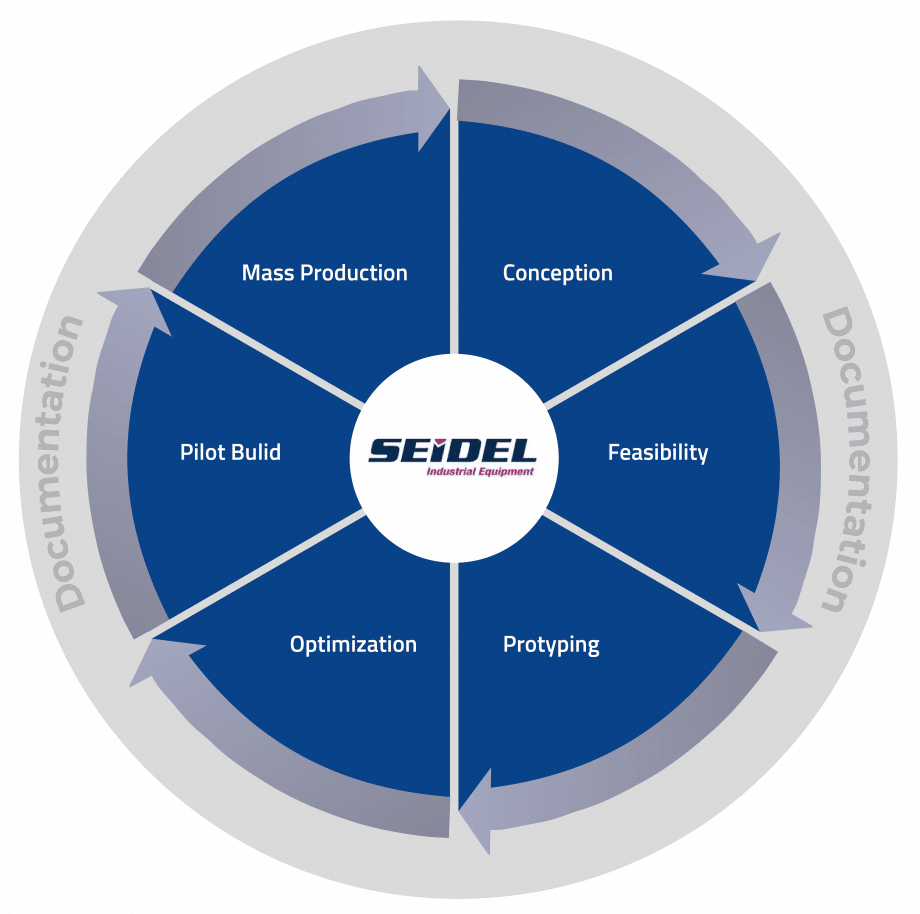 Conception
Feasibility
Prototyping
Optimization
Pilot Build
Mass Production
Conception
Every great product starts with an idea
The concept is the initial step of the development process and is usually the broadest. We will frame this concept into a manageable scope while working to establish the critical details and fully understand the purpose.
Feasibility
Prototyping
Optimization
Pilot Build
Mass Production
Need help with your project?